Op 30 mei gaat Ahlat Agaci (The wild pear tree) in première, de nieuwe film van Nuri Bilge Ceylan. De regisseur, producent en scenarist levert het ene na het andere meesterwerk af en weet in zijn eentje de waardigheid van de Turkse samenleving overeind te houden in het Erdogan-tijdperk. In zijn nieuwe film keert aspirant-schrijver Sinan terug naar zijn geboortedorp. Een kans op geluk maar ook een potentiële val waaruit hij niet meer kan ontsnappen.
Personages die terugkeren naar de plek waar ze ooit opgroeiden of tot wasdom kwamen, vormen een bron van inspiratie voor veel filmmakers. De vele herinneringen die er liggen kunnen een haardvuur zijn waaraan de held zich wil warmen. Nostalgie en melancholie liggen daarbij op de loer. Denk aan Nuovo cinema Paradiso (Giuseppe Tornatore, 1988), waarin regisseur Salvatore terugkeert naar zijn geboortedorp op Sicilië en naar de bioscoop waarin hij volwassen werd. Of aan de Shire, het idyllische einddoel waarnaar de Hobbits zo verlangen in The Lord of The Rings.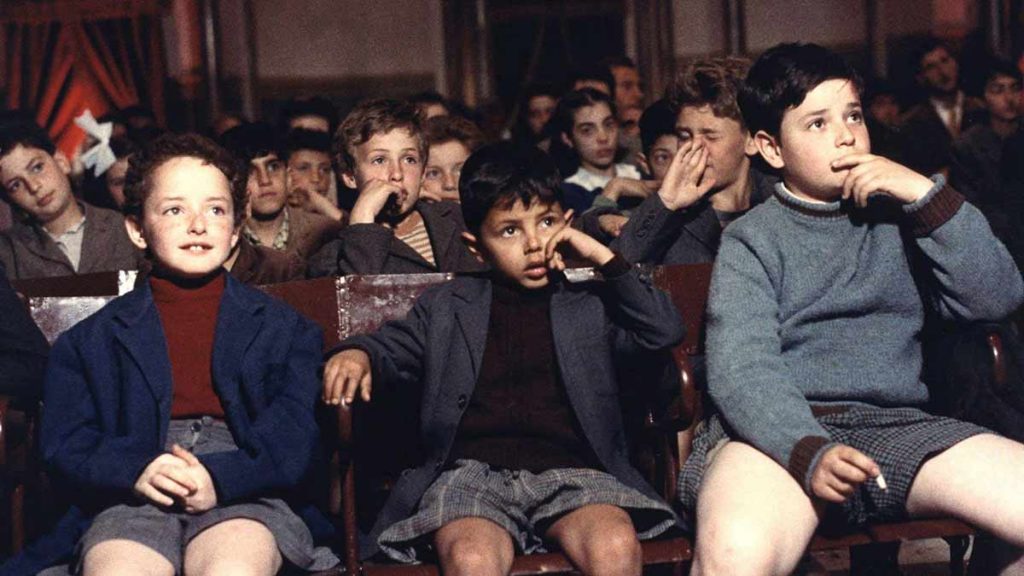 Maar vaak ligt het wat genuanceerder en is het een bitterzoete plek waarin geluk en ongeluk beide om voorrang strijden en het wemelt van intriges. Zoals in het gelijknamige landhuis in Howards End (James Ivory, 1992) of het romantische voorvaderlijke Brideshead Castle in het boek (1945), de serie (1981) en de film (2008) Brideshead Revisited. In Festen (Thomas Vinterberg, 1998) komen de intriges tot een vernietigende uitbarsting in het vertrouwde familiehotel waar iedereen naar terugkeert voor de 60e verjaardag van vader Helge. Het slaperige Haddonfield is voor Laurie Strode een echt thuis. Maar voor Michael Myers (in het originele Halloween uit 1980 en in de vele vervolgen) is het een verderfelijk oord waarin hij zijn moorden wel moet plegen. 
John Ford was een filmmaker die vaak beschuldigd is van nostalgie, maar het 'thuis' dat op zijn helden wacht is ook vaak een val of juist helemaal onbereikbaar. In The Searchers (1956) staat de Jorgenson ranch symbool voor de plek waarnaar de gekidnapte Debbie ooit terug moet keren. Maar voor de man die haar zoekt, de verbitterde Ethan Edwards (John Wayne), zal het nooit een thuis zijn. In The Man Who Shot Liberty Valance (1962) keert Senator Ranse Stoddard terug naar Shinbone, het plaatsje waar het voor hem ooit begon. Voor Stoddard heeft het altijd mythische proporties gehad omdat het een geheim verborgen houdt waarop zijn carrière is gebouwd. Maar hij moet er ook weer weg om dat geheim in stand te houden. Hoewel de protagonisten er vaak gemengde gevoelens bij hebben, worden aan die oerplek vaak mythische kwaliteiten toegekend. Het is een bucolische plaats die niet alleen in film een lange traditie kent. Voor Odysseus was Ithaka een welhaast onbereikbaar ideaal. De Romeinse dichter Vergilius en Renaissance-collega's als Dante, Petrarca en Boccaccio dweepten al met een arcadisch platteland. Later deden ook schrijvers en dichters als Edmund Spenser, Alexander Pope, William Shakespeare, Lord Byron en John Keats dat. Bij Tolkien dient de Shire daarnaast ook als een metafoor voor een verdwijnende manier van leven en de opkomst van een wrede geïndustrialiseerde samenleving. Bij Ceylan en vele andere moderne filmers is dat verdwijnen ook aan de orde, maar ze zien ook de minpunten van zo'n woeste wereld waarin slechts plaats lijkt voor een wilde perenboom en diens vervormde vruchten.
Dit stuk verscheen eerder in Machina 9 (mei/juni 2019), van de makers van MacFan